Mobile Repairing Course
Mobile repairing courses have become one of the popular vocational and technical courses in India. Hi-Tech Institute of Advance Technology offers these courses at very affordable prices. We have introduced special training for repairing all types of mobiles (android, blackberry, I phone) using projector and IRDA SMD machine. All our courses are of short duration. Anyone who is a dropout, student or a professional can easily join our mobile repair course including :
Hi-Tech Mobile Technology (HMT) 3 Months
Hi-Tech Advance Mobile Technology (HAMT) 1 Month
Hi-Tech  Expert of Advance Mobile Technology (HEAMT) 4 Months
Students are trained in chip level training, mobile phone complete software repairing, special Chinese mobile repairing and much more. We also provide free gifts like complete phone repairing tool kit, 11 mobile phone circuit chart, CDs of application software packages, etc. Each students is given a certification after the completion of the course. We also assist students in getting themselves trained for interview preparation and jobs placements. In addition to it, we keep on introducing various schemes & fee discounts to the students who want to join our mobile repairing institute in Delhi.
Laptop Repairing Course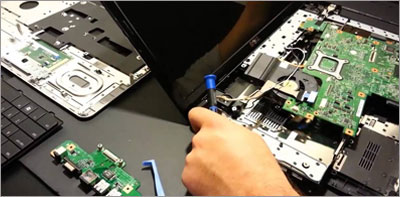 With more then 1.5 crore laptop users the importance of laptop repair training is constantly rising. We, at Hi-Tech Institute, understands the role of laptop technology in 21 century and hence offer laptop repairing courses in Delhi at basic, advance and combo level. We train students in window installation, soldering, de-soldering, motherboard repairing, C.C.F.L testing, etc., using oscilloscope & diagnostic card. We use the best tools and techniques in our practical and tracing lab. Also, we provide special laptop repair training on BGA machine. We make students well-versed with SMPS, desktop and laptop motherboard configuration through circuit diagrams launched by our engineers. To learn more about laptop repairing, you can join any of the following courses :
Hi-Tech Laptop Technology (HLT) Card Level 3 Months
Hi-Tech Expert of Laptop Technology (HELT) Chip Level 3 Months
After the completion of the course you can start working as a laptop engineer or technician. We also provide 100% support to the students by providing them free gifts such as magnetic screw driver kit, bag, digital multi-meter and many more. With the help of these tools and machines any one can start his own laptop repairing business at a small scale. In addition to it, we provide online backup support for a lifetime. To know more about laptop repair courses call us at 9212 577 577.